SKU:CS3
The ChairSpeaker CS3 is a revolutionary wireless TV sound system that delivers an immersive audio experience without the need for headphones. Designed to rest over the top of your couch, chair, recliner, or even headboard, these small but powerful speakers produce crisp, clear sound around you to deliver clarity you can enjoy. More importantly, they provide voice-enhancing sound, a large adjustable volume knob, and the ability to put you in a "sound cloud" that only you can enjoy without missing out on the world around you.
With ChairSpeaker CS3, you can experience TV differently. The speakers are designed for optimal comfort as they don't touch you, and you can still listen to the natural sounds or communication around you. They eliminate ear fatigue, sweat, moisture, or uncomfortable feeling of headphones. The adjustable volume control works independently of your TV.  Has immersive sound with enhanced voice clarity to ensure that you don't miss a single word of your favorite show.

Superior to Sound Bars in Personalization: While soundbars project audio across the room, often leading to uneven sound distribution and potential disturbances to others, the ChairSpeaker CS3 ensures that you are at the center of your audio experience. It delivers a focused, enhanced sound right where you need it, without overwhelming others in the house.

The ChairSpeaker CS3 is compatible with most TVs and streaming apps, and it's easy to set up.
Regular price
$0.00
Sale price
$250.00
Unit price
per
Sale
Sold out
Share
View full details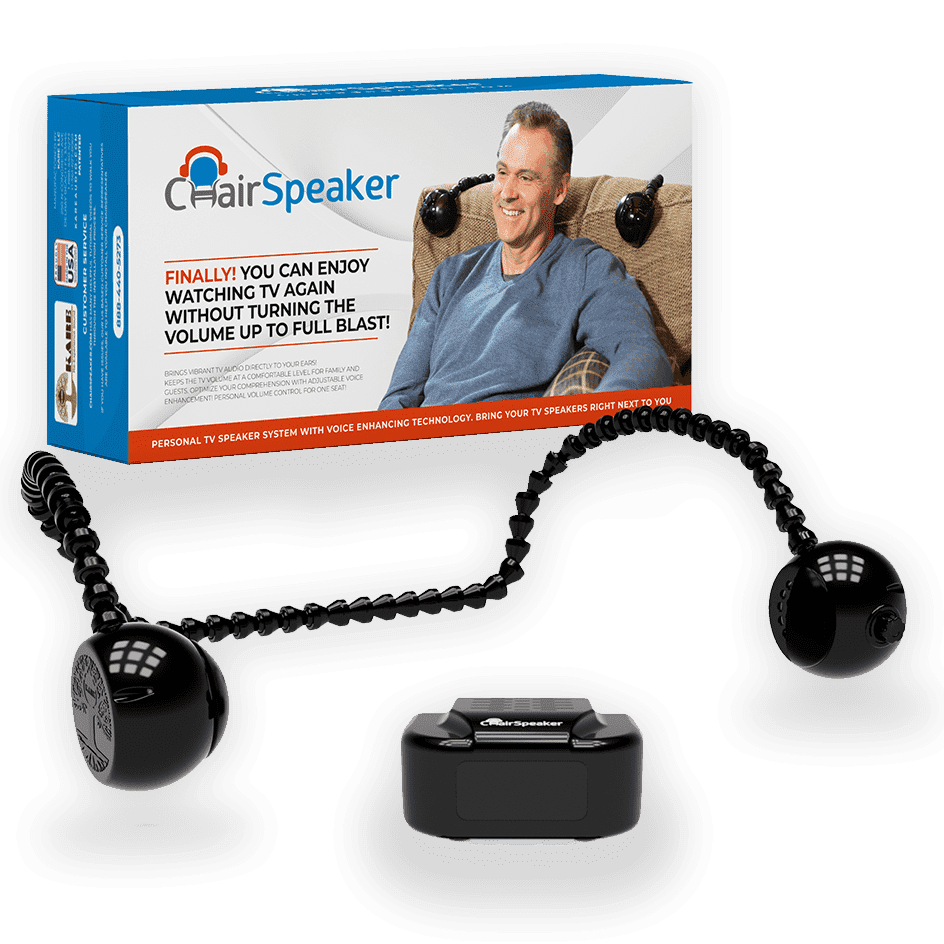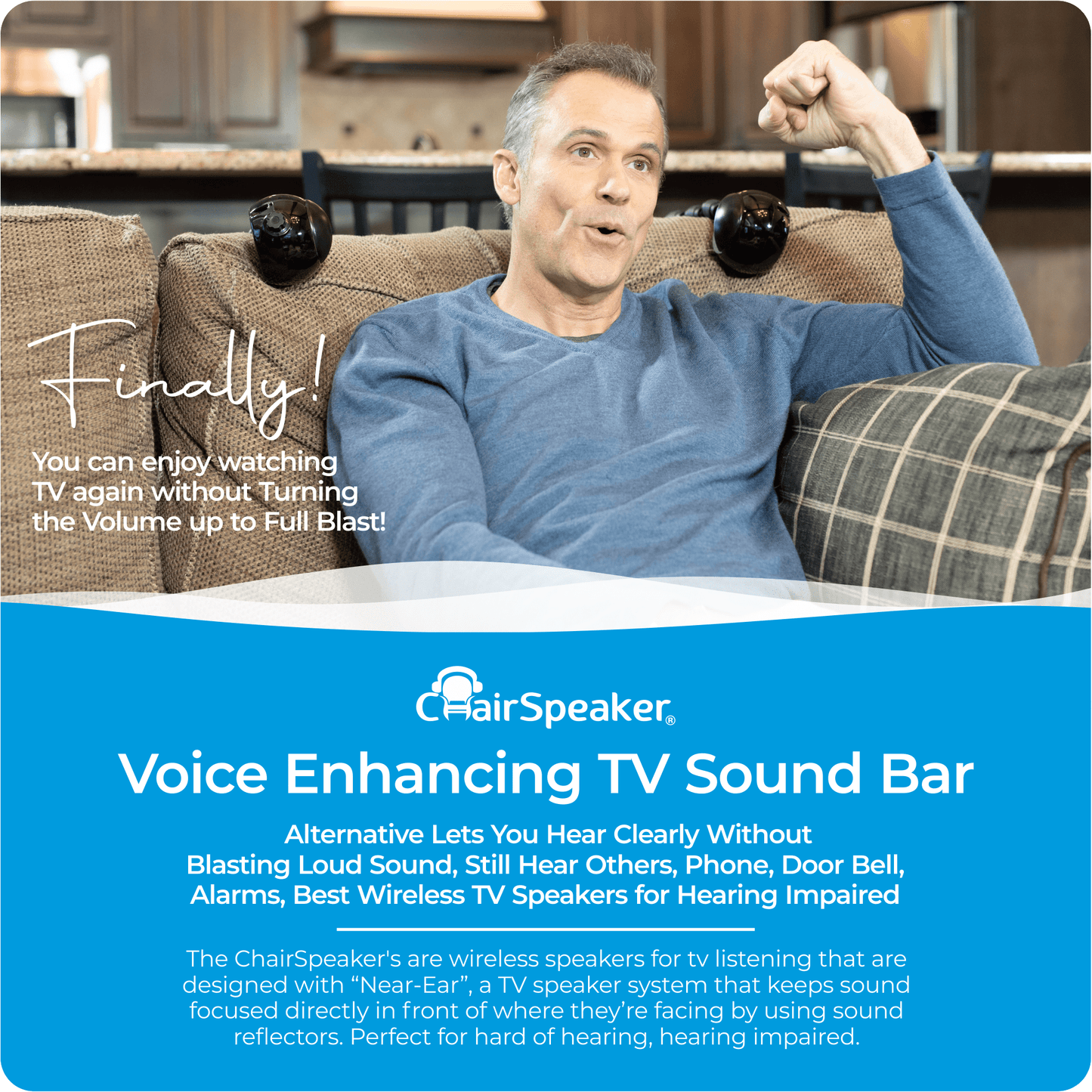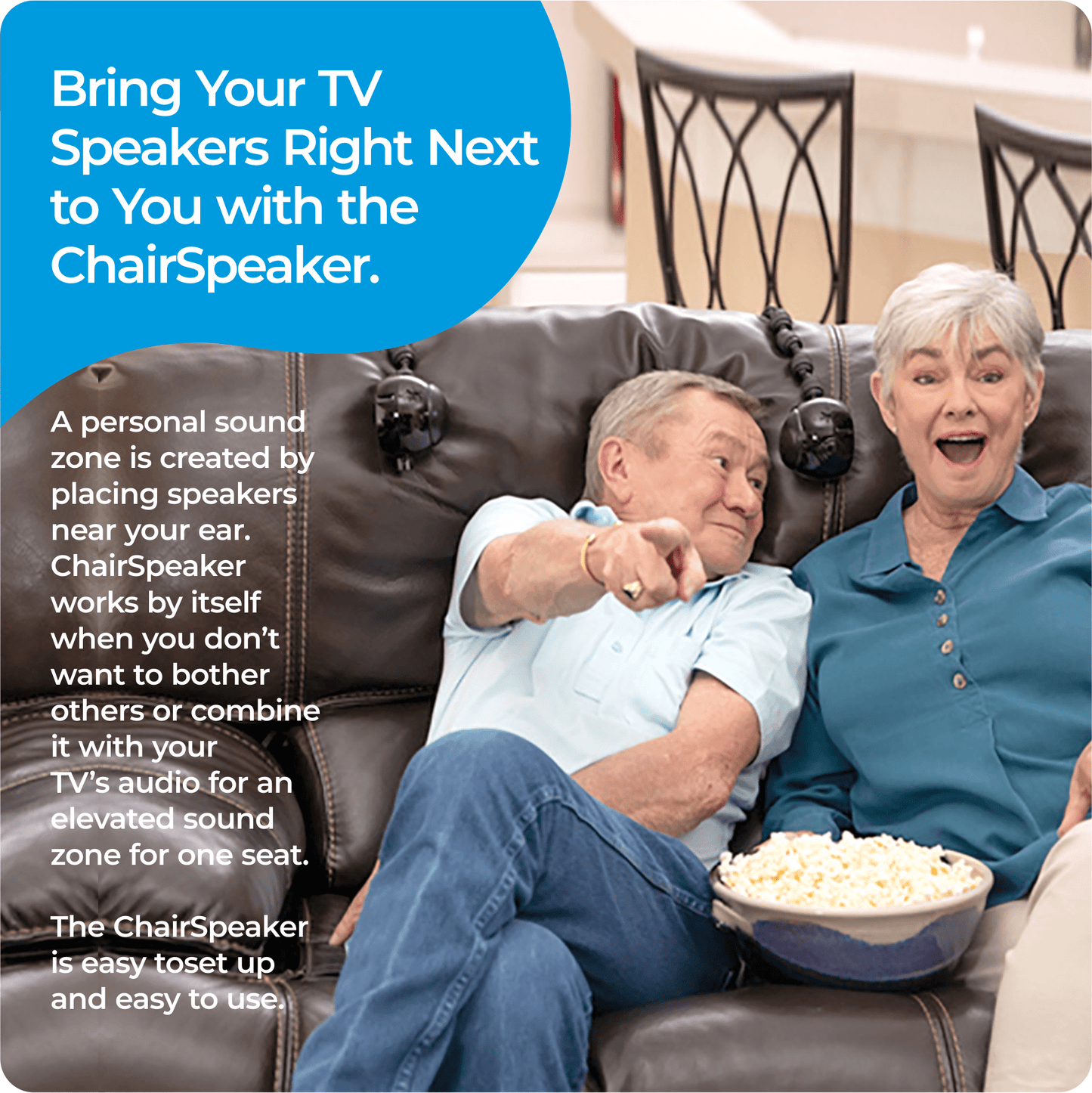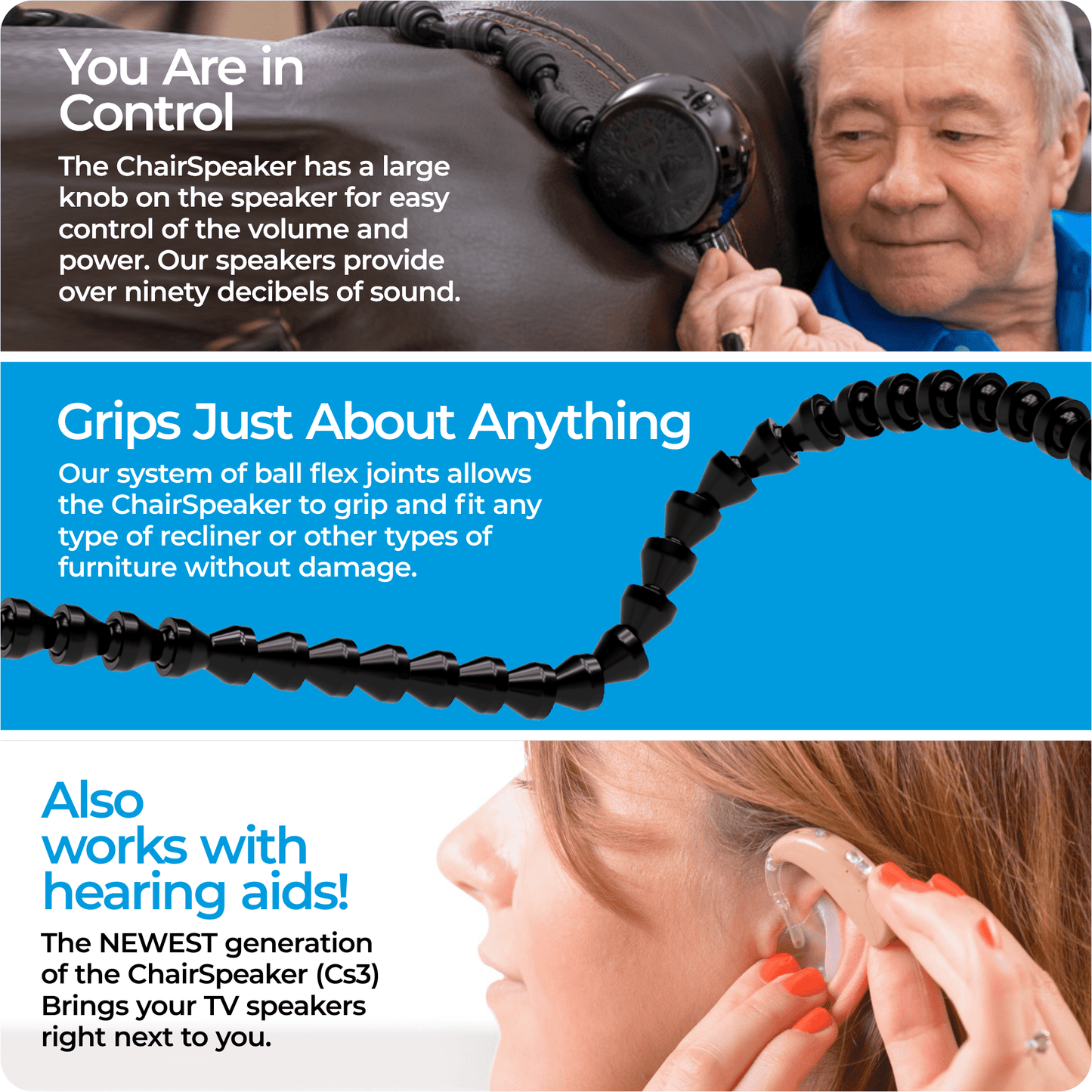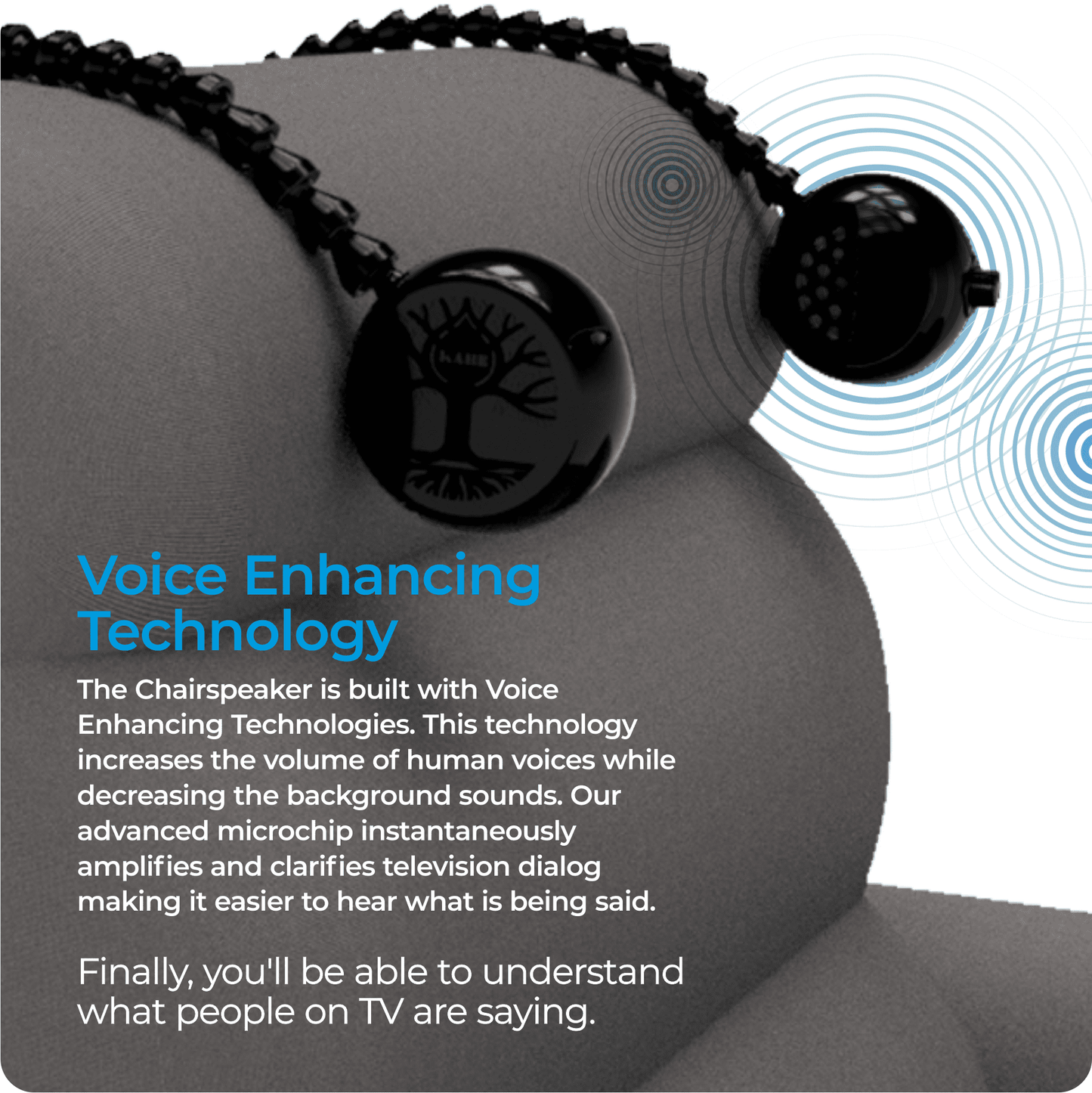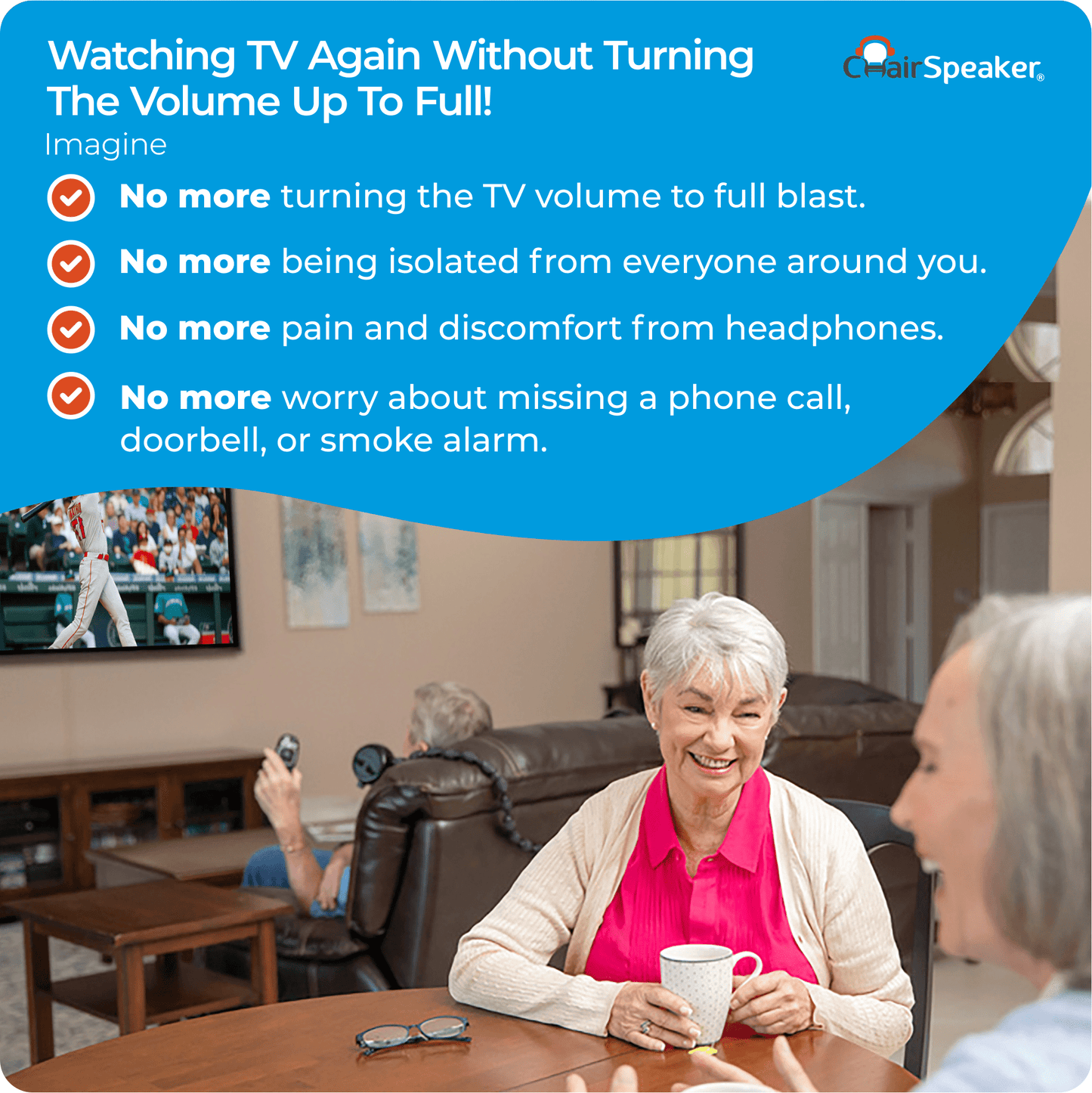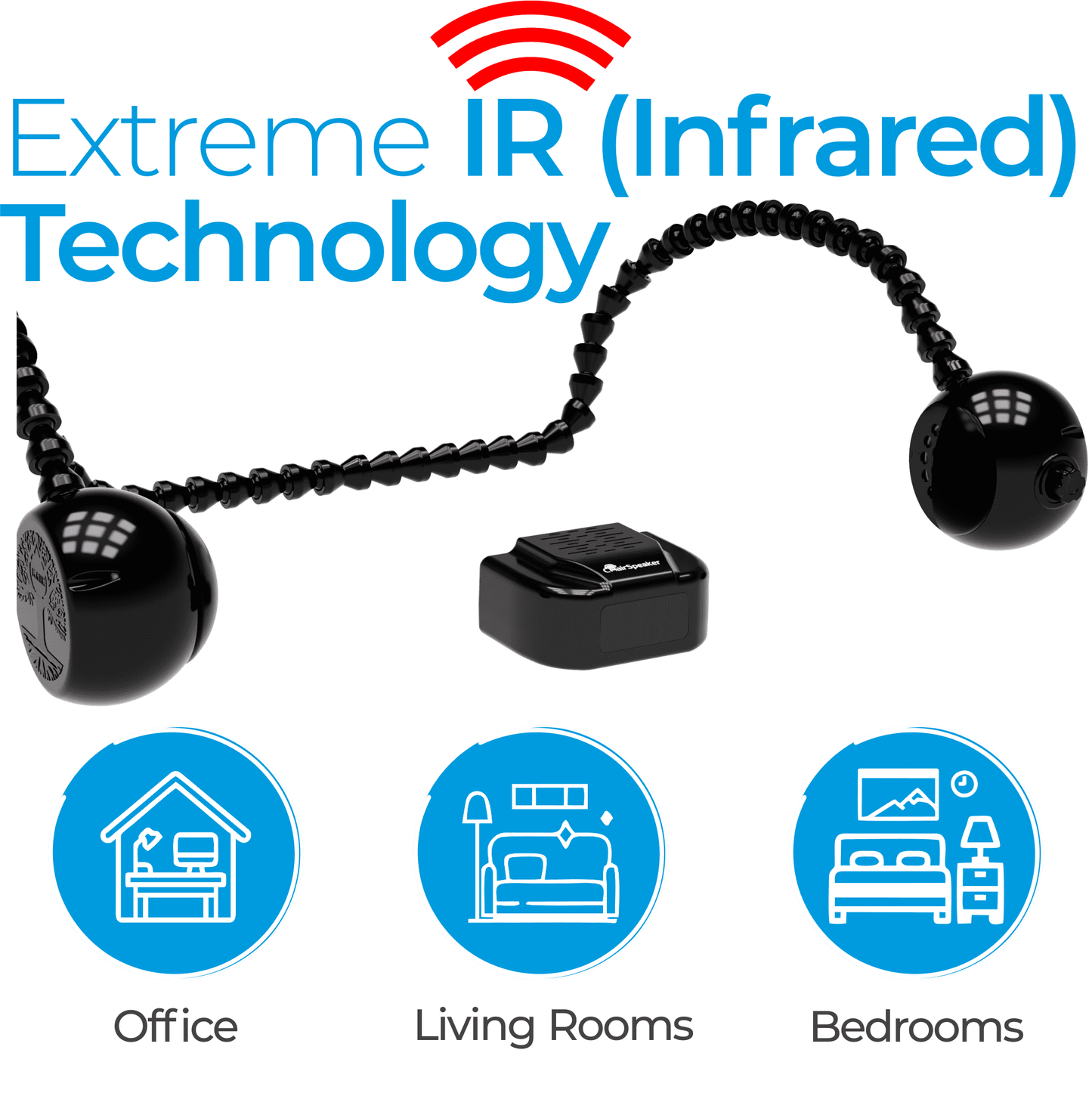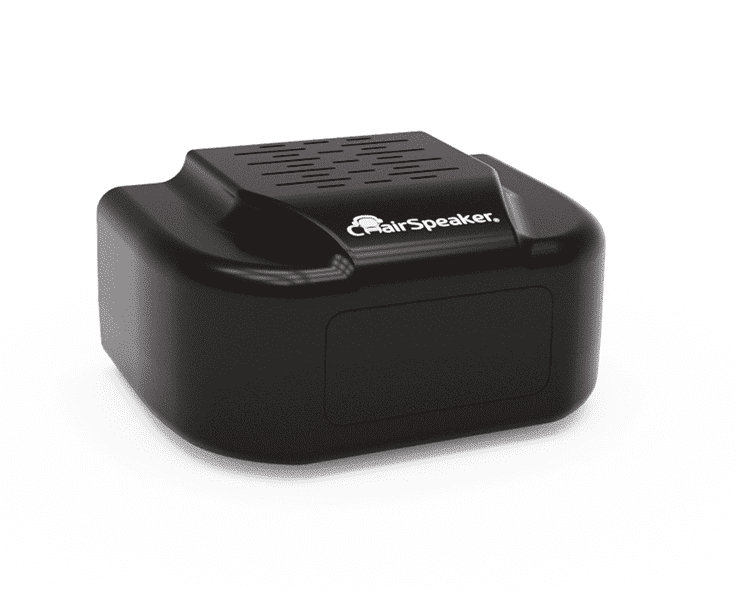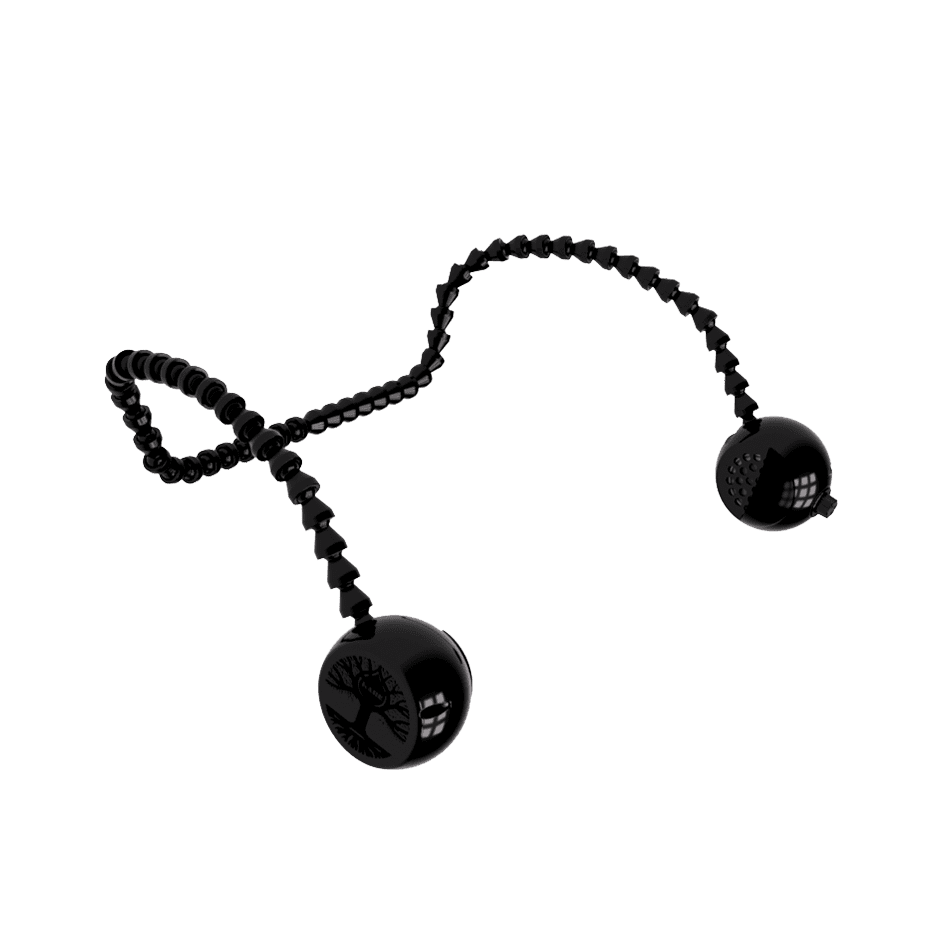 Revolutionize Your TV Listening Experience with ChairSpeaker CS3
Voice Enhancing Technology
Ultra-Fast IR Sound Transmission

Why Faster is Better: ChairSpeaker CS3 uses advanced infrared technology, transmitting sound up to 40x faster than Bluetooth and 10x faster than radio systems. With frequencies of 2.3MHz, experience a stereo sound cloud that ensures perfect audio-visual sync. Speech recognition becomes flawless, enhancing your TV viewing experience significantly.

Seamless, Direct Connection – No Pairing Required

Our infrared transmitter works like a typical TV remote, using a light beam to communicate directly with the speakers. This means there's no complicated pairing process involved. Simply point the transmitter towards the speakers with a clear line of sight, and you're set. Enjoy a clear, reliable audio experience every time.

Universal Compatibility: Digital & Analog

Seamless Connectivity: Our versatile system supports both digital and analog outputs. We include all necessary cables for Analog RCA, 3.5mm headphone jacks, and Optical Digital (TOS) connections, ensuring compatibility with any TV setup.

Adaptable and Furniture-Friendly Design

Fits Any Chair, Guarantees No Damage: Thanks to our innovative ball flex joints, the ChairSpeaker grips securely onto any type of recliner or furniture, ensuring stability without causing any damage

Simple Setup, Effortless Usage

Ease of Use Redefined: Setting up the ChairSpeaker is straightforward and user-friendly. It's designed to work independently or in conjunction with your TV's audio, providing an enhanced sound experience without the complexity. Only one volume knob for simple daily use. No need to turn off just turn on the TV!

Still Hear the World Around You

Balanced Audio Experience: Unlike headphones that can be isolating and uncomfortable, the ChairSpeaker lets you remain aware of your surroundings. Avoid the common pitfalls of cheap TV speakers and intrusive sound bars. Bring your TV's audio right beside you, creating an intimate, yet inclusive sound zone.
ChairSpeaker CS3 Product Details
What's in the box

With the parts included with the CS3, you're fully equipped to integrate the ChairSpeaker system with 99% of TVs. The provided cables, power supplies, and audio transmitter are all you need to set up and start enjoying personalized sound right out of the box, ensuring compatibility and ease of use with almost any television model.



Speaker Set: Includes one set of dual 5-watt speakers interconnected by flexible joints for optimal positioning and sound direction. (Replacement part: CS3S)


Speaker Power Supply: Ensure your speakers are always ready to deliver high-quality sound with the included power supply. (Replacement part: PSCS2S)


Optical Cable: A 36-inch optical cable for a seamless digital audio connection. (Replacement part number: 610-36)


Transmitter Power Supply: Keep your audio transmitter powered up with the included power supply. (Replacement part: PSCST)


RCA to 3.5mm Cable: For versatile connectivity, an RCA to 3.5mm cable is provided. (Replacement part number: 610-36)


Audio Transmitter: The CS3T audio transmitter, the heart of your ChairSpeaker system, is included to wirelessly send audio directly to your speakers.


Manual & Setup Videos

For a smooth setup process, we've included easy-to-follow instructions and a helpful setup video, which you can access ChairSpeaker CS3 Self Help. Should you encounter any difficulties or have questions, our dedicated team offers personalized phone support to assist you with any aspect of the installation. We're committed to ensuring you have an exceptional experience with your ChairSpeaker system from the moment you unbox it.

Manual
Product Specifications

Each ChairSpeaker system is crafted with care to ensure a premium audio experience. Our dedication to quality and user satisfaction is reflected in the detailed design and construction of our products.

Manufacturer Information:

Manufacturer: KARE
Country of Origin: Made with pride in the USA.
Input Voltage (Speakers): 12 Volts for efficient power usage.
Input Voltage (Transmitter): 12 Volts, ensuring consistent performance.
Speakers Maximum Output Power: 5 Watts, delivering clear and powerful sound.
Box Dimensions: 14.45 (L) x 7.24 (W) x 4.41 (H) inches

Box Weight: 3.32 pounds

Color: Black


Technical Details:

Power Source: Corded Electric for reliable and continuous power supply.
Connectivity Technology: Infrared technology for fast audio transmission.
Mounting Type: Flex Bar Mount, designed for easy placement and stability.
Material: Durable Plastic construction for a sleek look and longevity.
Health Considerations and Safety Information

We are committed to the health and safety of our customers and urge you to follow these guidelines to ensure a safe and enjoyable experience with our products.

Hearing Health Advisory:
If you suspect you may have hearing impairments or are experiencing any issues with your hearing, we strongly advise consulting with a qualified hearing specialist or healthcare professional. Early professional assessment and intervention can significantly improve the quality of life and ensure that any necessary treatments or accommodations are tailored to your individual needs. Our products are designed to enhance your audio experience, but they are not a substitute for professional medical advice or hearing aids prescribed by a healthcare provider.

Pacemaker Safety Advisory:
Users with pacemakers should ensure that the speakers are kept at a minimum distance of 10 inches from their pacemaker device. This precaution is to prevent potential interference with the medical device. Always consult with your healthcare provider for personalized advice and guidance for your specific health circumstances and the use of electronic devices.

Proposition 65 Warning for California Residents:
This product contains Phthalates, chemicals known to the State of California to cause cancer and birth defects or other reproductive harm. For more information, please visit the California Office of Environmental Health Hazard Assessment website regarding Proposition 65.



Hear the Difference: Real Stories from CS3 ChairSpeaker Users
Discover the Next Evolution in Sound: Introducing the New ChairSpeaker CS4 - Packed with Enhanced Features!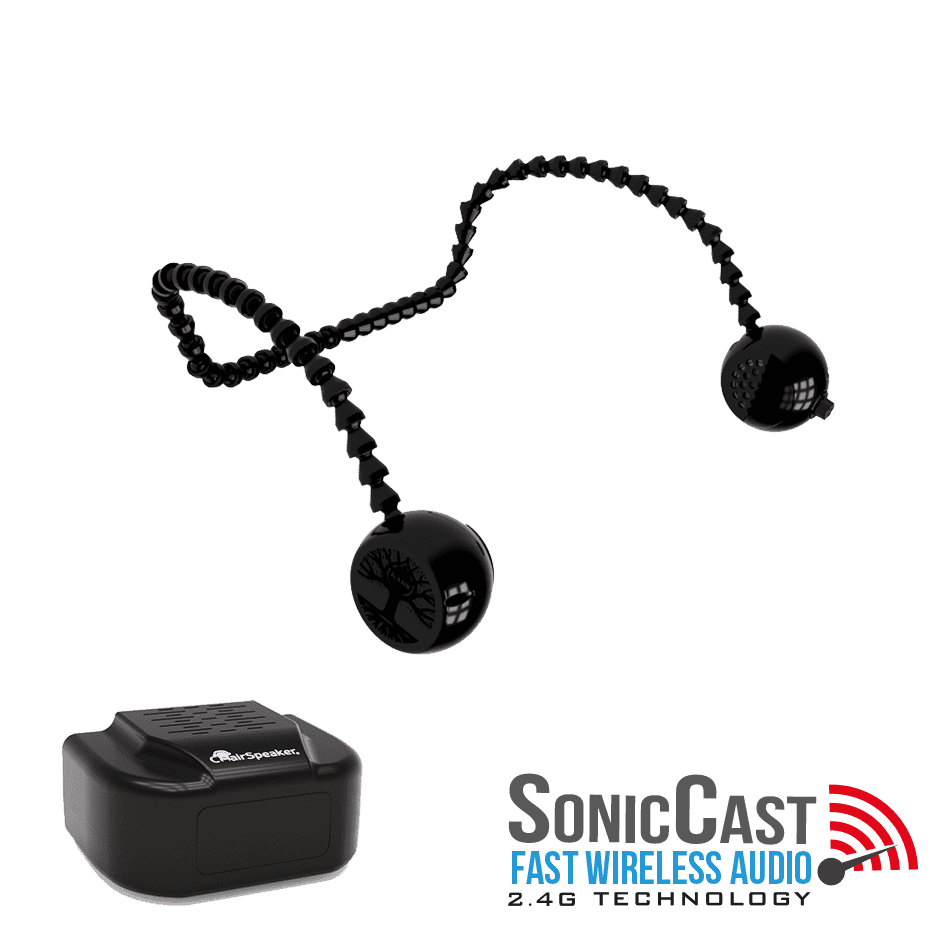 ChairSpeaker CS4
The newest generation of the ChairSpeaker CS4 brings your TV speakers right next to you. ChairSpeaker focuses the audio just where you need it. This is not your Grandparents' ChairSpeaker this is a wireless soundbar for your chair! Don't place the soundbar on the other side of the room. Place it on your chair, couch, or bed for personal surround sound.
Regular price
$0.00
Sale price
$359.99
Unit price
per
Sale
Sold out
View full details