The Ultimate Sound Experience Tailored for You
When it comes to personal audio, the details matter. The ChairSpeaker series is designed to cater to your individual listening needs, and understanding the nuances between the CS3 and CS4 models can help you make the perfect choice for your audio lifestyle. Let's dive into the specifics of each model and discover how they can enhance your daily audio experience.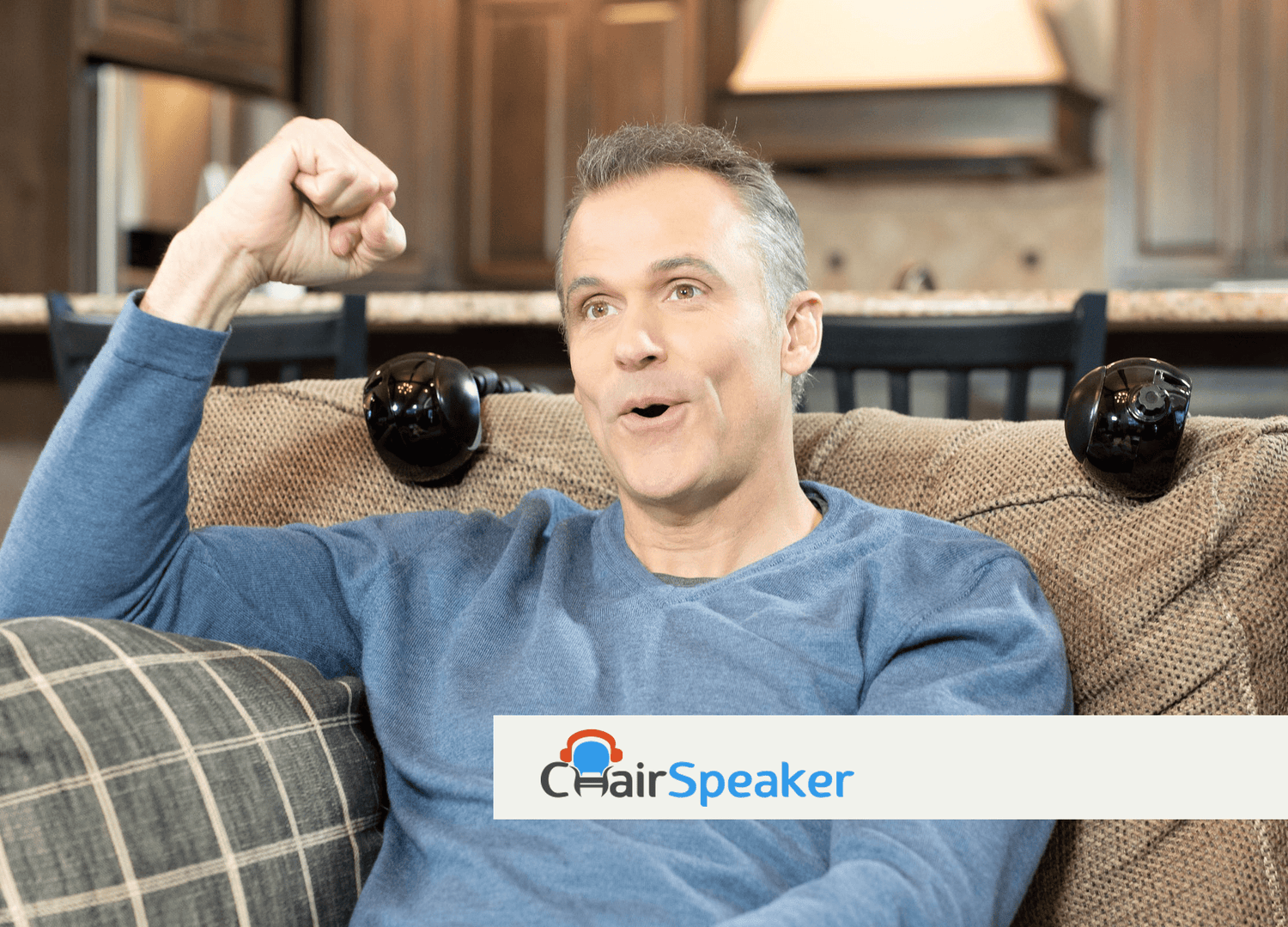 Innovative Wireless Technologies for Personalized Audio
Experience the perfect blend of cutting-edge wireless technology and personalized audio with our ChairSpeaker models. Each designed to cater to your unique listening preferences.

ChairSpeaker CS3: Direct-Link IR Audio Precision
The ChairSpeaker CS3 is at the forefront of our commitment to delivering targeted sound without the ambient noise. Employing 2.3 GHz Infrared (IR) technology, it requires a direct line of sight between the transmitter and speaker for a pristine and uninterrupted audio experience. Its mono channel output offers a focused, personal listening environment.

ChairSpeaker CS4: RF-Enabled, Flexible Audio Experience
The ChairSpeaker CS4 steps up with advanced 2.4 GHz Radio Frequency (RF) technology, ensuring broader coverage and fewer interruptions. Its independence from line-of-sight constraints allows you the freedom to position the speaker as desired. The stereo channels in CS4 enhance the audio depth, providing a rich, immersive listening experience that goes beyond the traditional.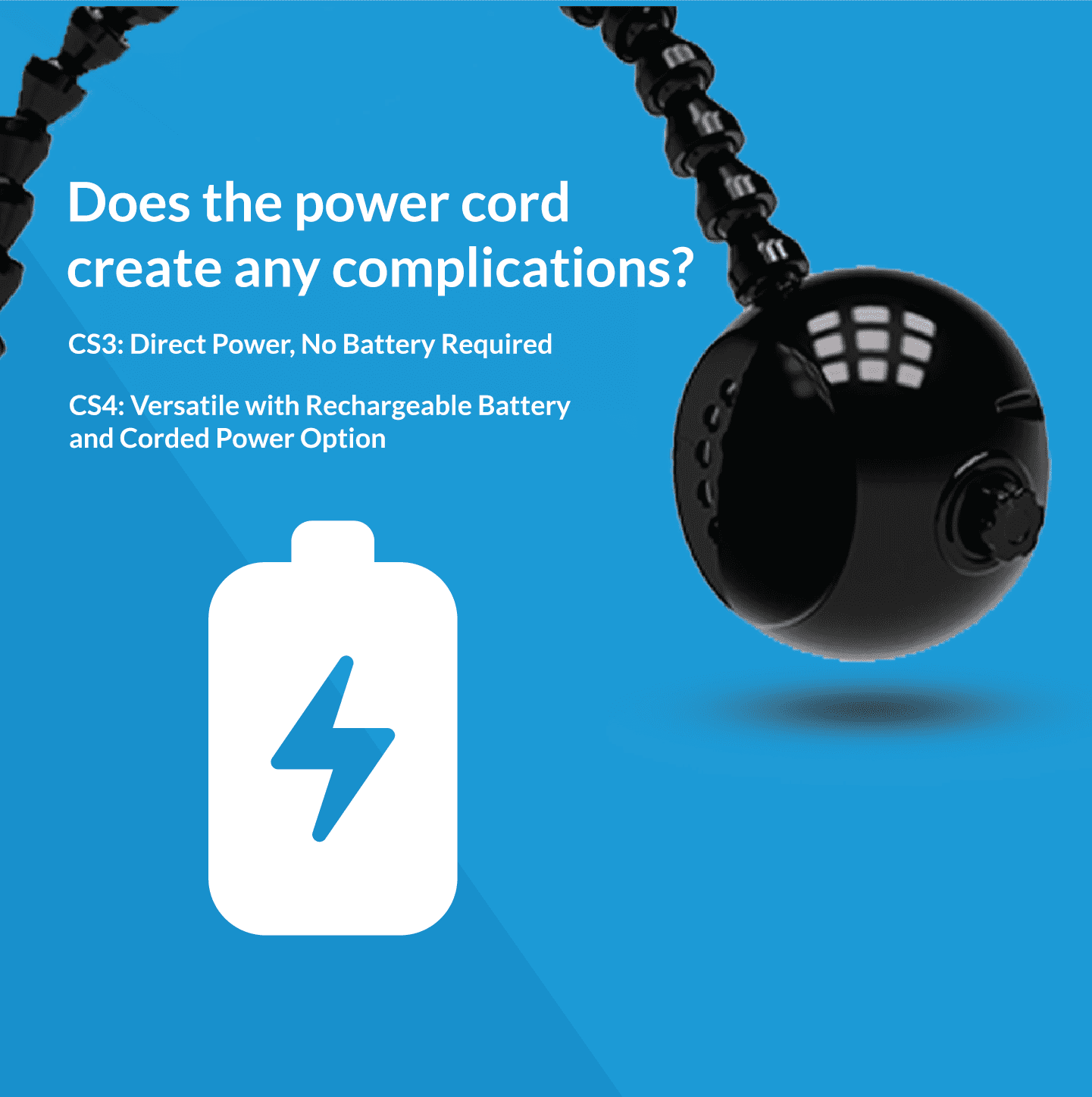 Battery and Power: Convenience Meets Innovation
CS3: Dependable and Steady
The CS3 model is designed to be plug-and-play, with no battery required. This means you have continuous power without the need to recharge, ensuring your listening experience is never interrupted.


CS4: Freedom with Rechargeability and Corded Use
In contrast, the CS4 offers the convenience of a rechargeable battery, affording you the freedom to enjoy your ChairSpeaker without being tethered to a power outlet. For uninterrupted use, you can also utilize the provided power cord to operate the CS4 while plugged in, ensuring continuous enjoyment even when charging. This feature is ideal for those who value both flexibility and the assurance of non-stop functionality in their home audio setup.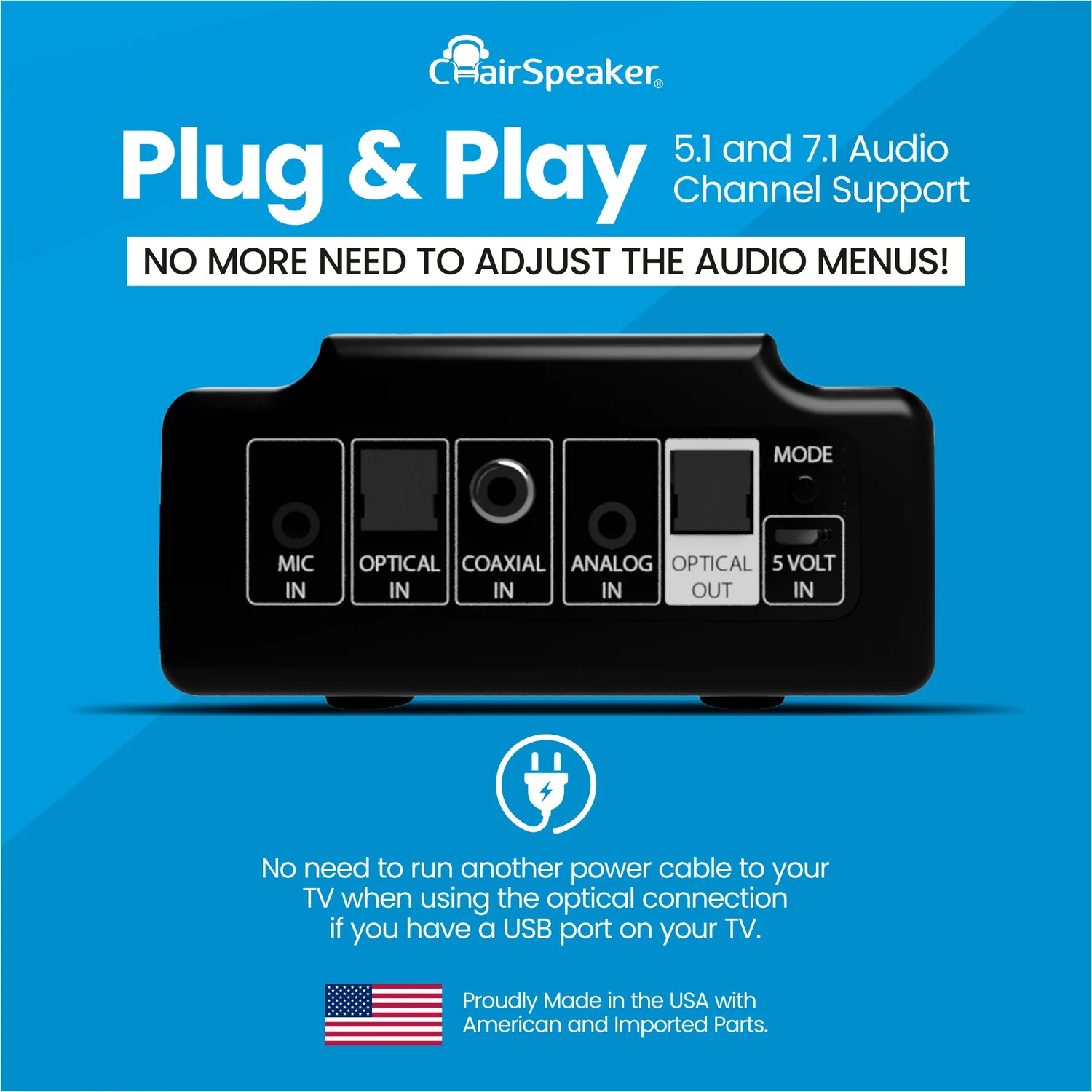 Audio Decoding: Bringing Sound to Life
CS3: Simplicity in Sound
Opting for simplicity, the CS3 does not include audio decoding, focusing on delivering the source audio without alteration, which is perfect for those who prefer a more 'as is' audio experience. However, to optimize sound quality, you may need to adjust settings on your TV to ensure compatibility and achieve the best sound experience.

CS4: Surround Sound Decoding with Easy Setup
The CS4 enhances your audio with 5.1 and 7.1 audio decoding capabilities, offering a surround sound experience that places you right in the midst of the action. This feature, combined with the plug-and-play setup, makes the CS4 a seamless addition to your entertainment system. It's the ideal choice for audiophiles seeking a rich, enveloping sound without the need for additional adjustments or configurations.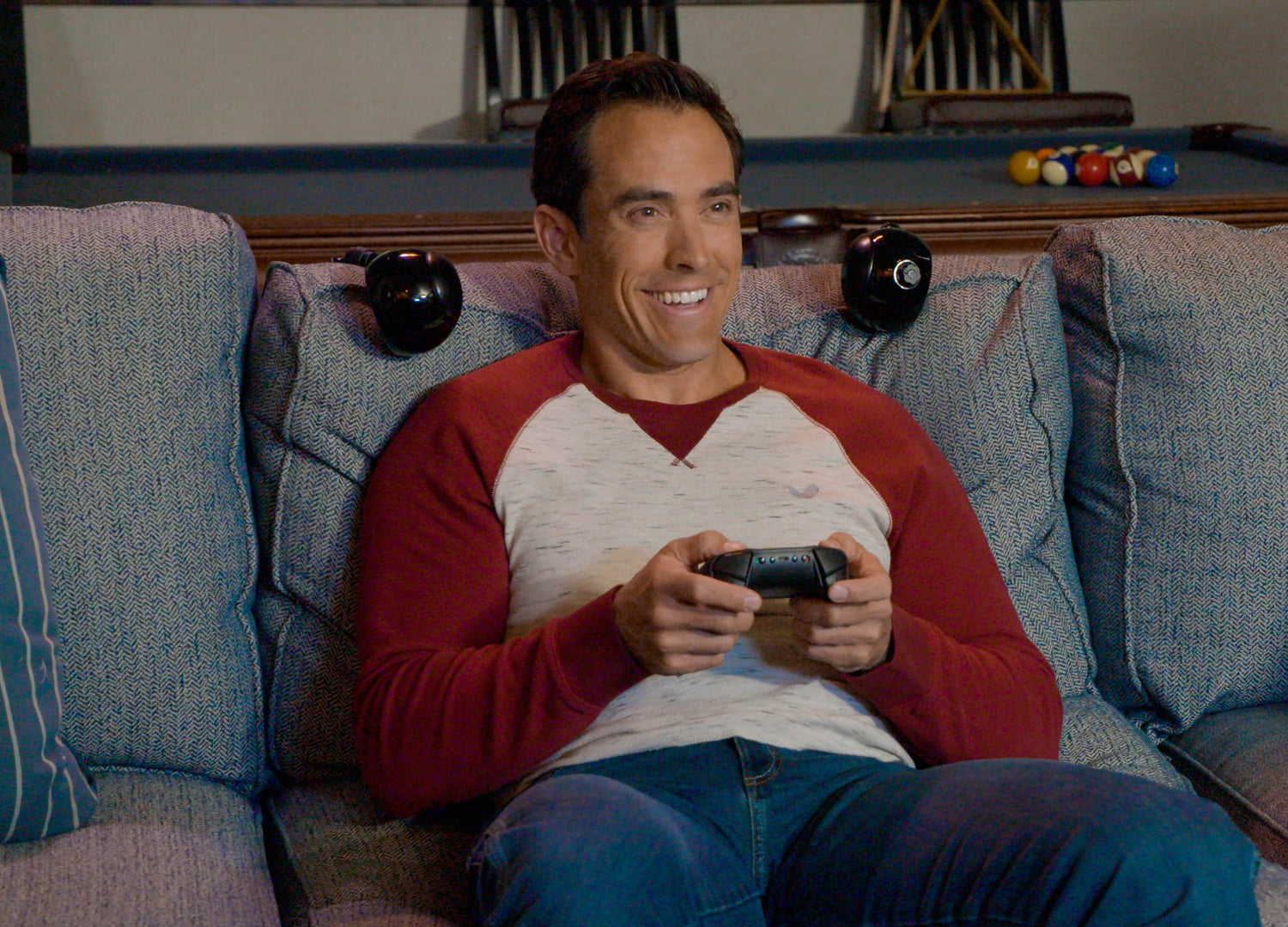 CS4's Cutting Edge Features for the Ultimate Experience
Unique to CS4: Enhanced Audio Connectivity

The CS4 stands out with its advanced features that are not available in the CS3. It comes equipped with Calm Commercial™ technology to automatically lower the volume of excessively loud commercials, providing a more consistent and comfortable listening level. The Virtual Surround feature creates a multi-directional audio effect, immersing you in a richer sound environment. With Voiceify™ technology, dialogues are crystal clear and distinct from any background noise. For those who prefer a tailored audio experience, the CS4 offers selectable sound tuning, allowing you to switch between HiFi or Voice modes depending on your preference.

Additionally, an adjustable delay feature ensures your audio is in perfect sync with the visuals on your screen.


Seamless Integration with Your Sound System
The CS4 further enhances your audio setup with an active optical out. This allows you to pass the original optical signal through to your soundbar or home theater system seamlessly. Unlike the CS3, which may require an optical splitter for simultaneous use with a soundbar, the CS4 provides a direct connection, maintaining high-quality digital audio output. If you need to connect the CS3 to both a soundbar and the ChairSpeaker system, an optical splitter is available for purchase at KARE Audio Optical Splitter.
In conclusion, the CS3 ChairSpeaker offers a solid and straightforward audio experience, while the CS4 takes personal audio to the next level with its customizable and immersive features. Both models are designed to deliver sound directly to you without disturbing others, but the choice between them will depend on your need for advanced audio features and seamless integration with existing home audio systems.
ChairSpeaker CS3 vs CS4
| Feature | ChairSpeaker CS3 | ChairSpeaker CS4 |
| --- | --- | --- |
| MSRP | $249.99 | $369.99 |
| Wireless Technology | 2.3 GHz Infrared (IR) | 2.4 GHz Radio Frequency (RF) |
| Number of Channels | 1 (Mono) | 2 (Stereo) |
| Battery Powered | No requires plug | Yes, Rechargeable |
| Voice Enhancement | Analog | Advanced Digital |
| Audio Decoding | No | Yes, 5.1 & 7.1 |
| Calm Commercial™ | No | Yes |
| Virtual Surround | No | Yes |
| Voiceify™ | No | Yes |
| Optical Output | No | Yes |
| Sound Tuning | Voice Tuned | Selectable, HIFI or Voice |
| Adjustable Delay | No | Yes |