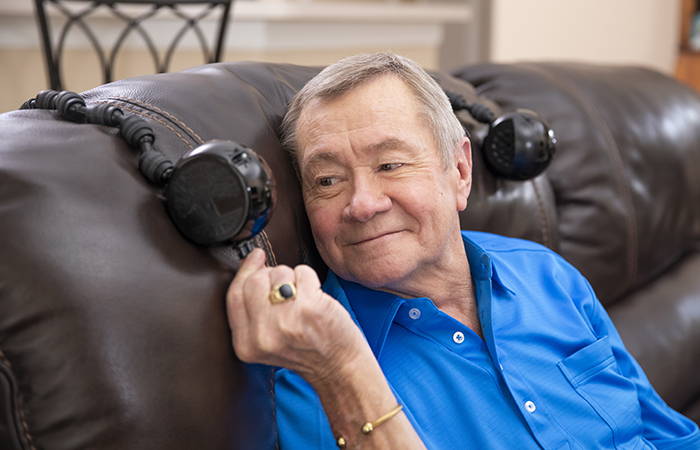 ChairSpeaker delivers a rich audio experience attached to your favorite seat.

ChairSpeaker is extremely comfortable to use unlike over the ear or in the ear headphones.

ChairSpeaker is a plug and play device. The cables needed for your TV are included in the box.

ChairSpeaker transmits sounds wirelessly between your TV and personal speakers.
CHAIRSPEAKER
ENHANCES VOICES

Voice enhancing technology built in Chair Speaker enhances human voice while decreasing background noise.
ChairSpeaker creates your own sound cloud around your chair
PERFECT FIT
FOR YOUR CHAIR
ChairSpeaker's built in rubber grips and ball flex joints keep the chair speaker perfectly fixed with any kind of chair.
ChairSpeaker comes with a built in nob to control the volume easily without getting up or using a remote.
ChairSpeaker works with all kind of hearing aids unlike other products
Give us a call today at (866) 630-5560 to order your new wireless chair television speakers!
Watching TV doesn't get better than this.
With Chair Speaker, hear the TV again with or without hearing aids
Special Limited time offer!!
Try Chairspeaker before buying it
Signup now for our FREE Voice Enhancing Demo
Signup Now
What People are Saying about the ChairSpeaker!

I LOVE the ChairSpeaker! One of the best products I have used in years. The sound cloud is like my own personal surround sound system but better because I can hear the TV dialog!
Kudos to the Chairspeaker team for this superb product. This was for my husband who was not to big on it at first, but after trying it out he loves it. Now all the guys he plays golf with have one. Very impressive. It has made my house livable again. Thank to all involved.

Speakers by your ear! The voice enhancement really works! The way it surrounds zone works is quite impressive. You can still here the sound from the speakers in the room but in the sound zone its much louder!
Armchair Television Speaker
Are you having a hard time hearing the TV without turning the volume to a full blast?
Is it disturbing others in your home?
Are you uncomfortable wearing headphones and earphones?
Are you looking for armchair wireless speakers for your TV?
We hear you.
The Chair Speaker is a TV listening system that delivers voice enhancing TV sound directly to your ears without the isolation or discomfort of headphones. Simply wrap the wireless television speakers over the back of your chair, bed or couch, and enjoy a Near-Ear TV Experience. The Chairspeaker helps you hear the television dialog clearly while eliminating complaints about loud volume.
With Chair Speaker,
• Eliminate ear fatigue & moisture caused by wearable audio systems
• Hear what's going on around you unlike with wireless TV headphones
• No more disturbing people in other rooms
• Volume control works independently from your TV
• Stereo sound for immersive experience
• No batteries to replace or charge, The Chairspeaker includes an A/C Adapter that plugs into a speaker with a 20-foot cord
• Freedom to get up & down from your chair without dealing with earphones
Buy with Confidence! In our effort to build trust with our customers and create a long term relationship, Kare, LLC offers a 30-day risk-free trial on our ChairSpeaker, we stand behind our products. This means that you canreturn the product for any reason within the 30-day period after you have received the order on your doorstep. You'll find us proudly promoting this policy throughout our site and marketing communications – we're proudof it. Read the Full Policy Here.
Our 5-year limited warranty covers product failures due to manufacturer's defects for a period of 5 year after the original purchase. The warranty is only valid if the product is purchased from KARE, LLC or one of KARE, LLC'sAuthorized Resellers. If the product fails within 5-years of the original purchase it will be replaced at no charge with the same or newer model of equal value.